Coaching to educate, motivate and inspire
Everything that children show in their behaviour tells us a story. Even when your child is faced with challenges or setbacks, they deserve to be the super hero of their own story.

Positive Attitude • Emotional Intelligence • Resilience • Focus • Communication • Creativity • Inspiration • Success Mindset • Confidence • Empathy • Relaxation • Social Skills • Motivation • Responsibility • Concentration • Happiness
The question is… Do children have a choice to stay children in this ever-changing world that is forcing them to grow up so fast?
Life should be fun and it can be!
We don't assume that children will magically be able to stand up to bullies, say no to drugs, not contemplate suicide or self harm.

What Kids Life Coaching does is prevent negative life experiences from spiralling out of control, by giving children a toolkit for a healthy body, heart and mind. Life should be fun and it can be! That's the way that we think anyway!
At the Kids Life Studio®, our global network of certified Kids Life Coaches support children to make good choices, overcome obstacles, be confident and motivated.
How can we help?
It has been proven that building resilience, emotional intelligence, positivity, confidence and social skills are the keys to being able to cope with life.
Life is about challenges, falling down and overcoming setbacks, but if children don't have a strong body, heart and mind to deal with these, the outcome is negative behaviour and low self esteem.
This makes us sad, but there is something we can do to help! Yay!
We are proud to say that our global network of Kids Life Studio® Coaches are experts in empowering children to become the leaders of their own lives.
When children visit our child friendly Kids Life Studio® spaces they are not only equipped with a "Leadership Mindset" but they leave feeling relaxed and inspired.
It's all so easy to do if we catch kids before the age of 12! Don't believe us? Well, that's about to change! Check out what we believe in…and we hope you agree!

Our beliefs
We believe – that motivation is a lifelong process and children need neutral mentors for ongoing support and guidance to motivate them to succeed in life.
We believe – that our world is an amazing place full of learning opportunities and that by actively embracing this; children can begin to understand their own place in the world.
We believe – that every child is a leader in their own right and with the correct guidance and encouragement; this can be developed & strengthened.
We believe – that the sustainability and future of our planet is in the hands of our next generation.
We believe – that children are thinking, feeling human beings that learn about themselves through movement and their senses.
We believe – that every child should be motivated to read for pleasure and to learn for fun, so that they can become engaged thinkers and life-long learners.
We believe – creativity is a process of expression, discovery and interaction that equips children with the skills to tackle the world with an open heart and an open mind.
We believe – children need to be taught the social etiquettes and rules of engagement for responsible technology use, as it is their gateway to understanding and interpreting the future.
We believe – that by equipping our children with good nutritional habits this will in turn lead to strong bodies and minds able to tackle the world with energy and vitality.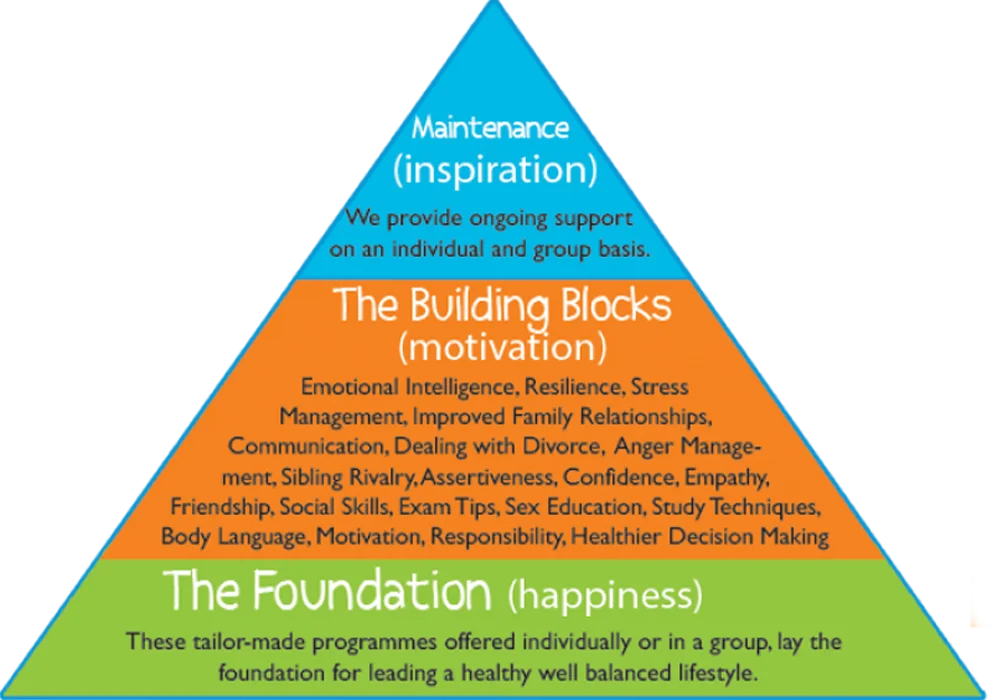 How does our Kids Life Coaching work?
Many adults don't realise that Kids Life Coaching is nothing at all like adult Life Coaching. With great respect to the Adult Life Coaching industry, children think differently and they learn differently, so our Kids Life Coaching model allows children to do what they do best….to PLAY and have FUN!

Our founder, Zelna Lauwrens, has over 20 years experience working with children as a Teacher, Counsellor, Behavioural Consultant and Kids Life Coach. She has used her extensive experience working with children from all backgrounds and circumstances, to design a Coaching System that has been showing positive results around the world since 2005.
When Zelna first started Kids Life Coaching, she found that there were no suitable coaching programmes designed and aimed specifically at children.
Zelna started carefully researching these 6 theories. She saw value in each theory but felt that they needed to work in correlation rather than in isolation.

The easiest way to describe how Zelna came up with our Coaching Model it is to say that she threw all of her research into a "Melting pot" and stirred it all up! What she produced was a simple yet effective way to coach children that gets them enjoying life's challenges with confidence.

The aim of a Kids Life Coach is to give children the tools to cope with their challenges before things spiral out of control. Our proven Kids Life Coaching Model has been developed with the unique needs of children in mind.
Part of our Kids Life coaching process is to take a snapshot of what is happening in all areas of a child's life because we don't believe in a 'one size fits all' philosophy.

All of the children that we work with are assessed online so that we can specifically target any areas that may be out of balance. We then take them through our unique 10-step Kids Life Coaching process that lays the foundation for living the life of their dreams.
What comes next?
So you might be wondering how we get "buy-in" from children! Well its because our coaching is always in a child friendly Kids Life Studio® space that is a welcome break from the pressures of life! When children visit us, they always leave feeling inspired!
This means they keep asking to come back for more, so after their initial foundation coaching programme, we have a full range of follow up extra-mural programmes and workshops that give them the building blocks for developing their "superhero mindset"!

Up for some family fun?
Enrol in our FREE Choice Challenge and get your kids started on their journey to becoming a Super hero change maker!
This consists of 7 weekly e-mails that will give your family easy to do challenges that relate to our key ingredients for making good choices in life.
Do you want to support your child in becoming the leader of their life?
Then why not find a Kids Life Studio® Coach in your local area today.
Does the prospect of helping children shape their own futures sound good to you?
Then why don't you take the first step and become a Kids Life Studio® Coach?